wow, apparently, some fans of the Archie Sonic are a bit flamed up because they heard something in an interview regarding ian Flynn and IDW
I'll have a further look at that interview some time in the future...
As promised I'll delve through what this damned commotion.
So i'll start off with something simple, shall we.
Rough and Tumble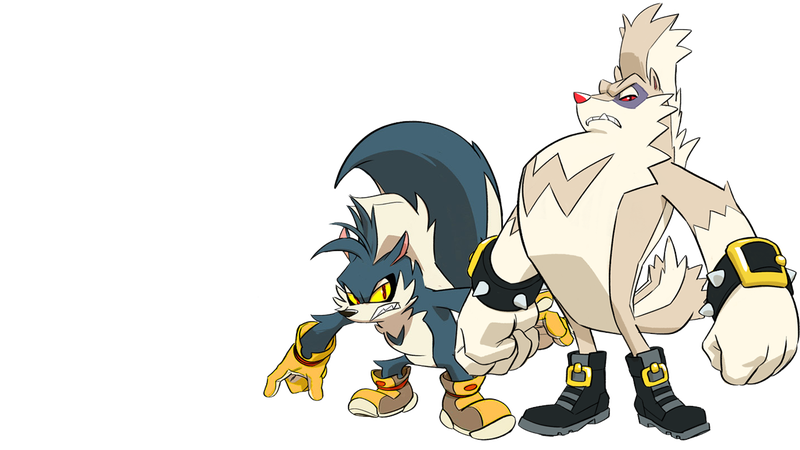 Okay, they are Rough and Tumble
(original source:
kotaku.com/meet-rough-and-tumb…
)
*both are skunks
Now i do personally admit that it did cross my mind that the duo made me think of Sleet and Dingo from Sonic Underground- after hearing about the resemblance was pointed out by some people (which seemed more like a vibe)- but it is more of an actual trope (theme) than saying they are a rip-off of them (one who is shifty and the other one acts as the muscle and could be dim e.g. Winnie the Pooh- Hefflelump and Woozel etc.). or even this:
tvtropes.org/pmwiki/pmwiki.php…
And also of note people seem to compare them to the pre-reboot Archie character Geffrey St. John, its always inevitable that people are going to always try to compare the new stuff with the old Sonic stuff, especially pre-reboot Archie Sonic.
*Whilst Geoffrey St John was originally concieved as a skunk version "James Bond" originally, and then it was revealed that he was a traitor
*Rough and tumble are a duo who are described as mercenaries
*Both St. John and the skunk duo have different colours and stripes.
As far as I can tell, despite owning the character of Geoffrey, you can't copyright a species in real life, and besides .
and besides, Ken considers them "alien" in his 'canon'
Although i don't have the exact source, Ken did say that he himself based St. john on Pepe le' Pew, However, it has shown that there were a number of skunk characters in SATAM.
And before people start jumping out of their chairs, as far as i know
Here are some images of the Skunk background characters from the SATAM show. (Left: from
No-Brainer
)
Tangle (incomplete)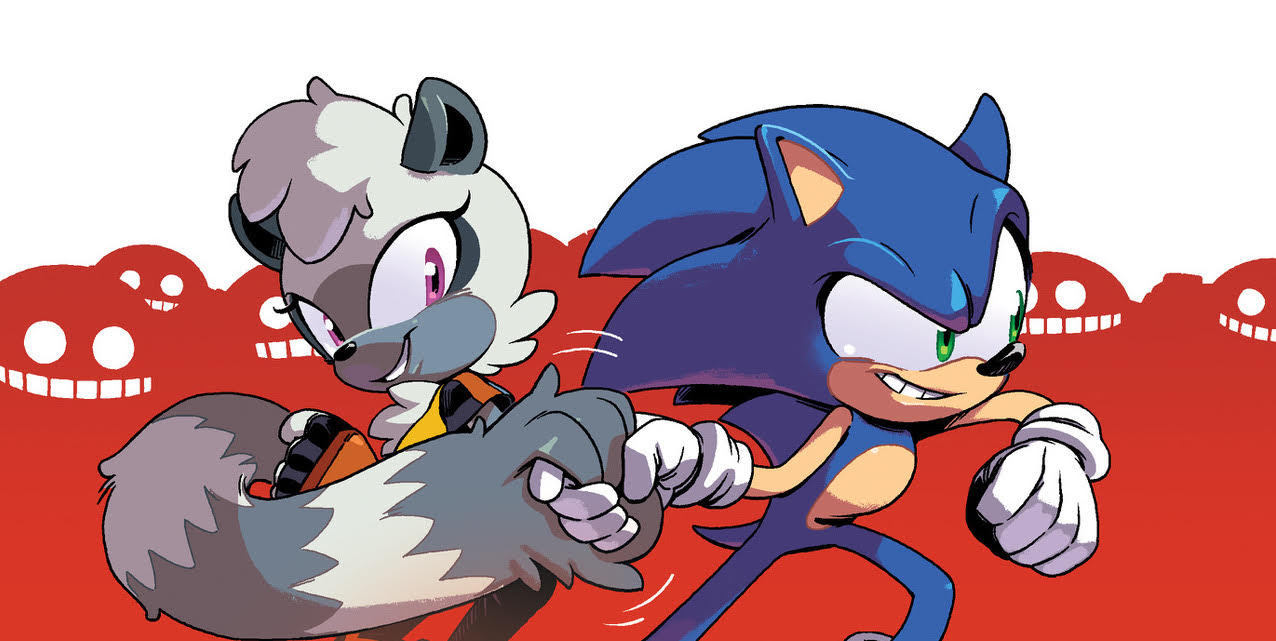 Tangle the Lemur
Ok, this section is not just covering Tangle, but it is also related to Sally Acorn, which along with the other freedom fighters, will be covered in one of the other later sections, which some people thought it was her during that slow reveal. Now i will only cover Sally "lightly" here, and I'll put it in a later section, trust i wouldn't mind sinking my teeth into it.
The reveal gimmick isn't new, granted I have not seen one performed as gradual as this, which i can understand could be frustrating to people,
I know a lot of people wish that Sally might be coming back, but that is no excuse to being rude and acting like a jerk. Put your manners back in and be respectable if you don't want to get blocked. Just like that extreme SonAmy fan that made death threats just because the person felt as though there wasn't enough coverage of "Sonic & Amy" pairing. I will say that know that the person that got blocked by Ian Flynn wasn't as extreme, though he was very rude and arrogant. I personally felt he was harassing him.
Back to that preview, did it say any other information- like "a new character" or a character we all know and love. that's the purpose of a blanked out silhouette (or even a blurry one), it keeps people guessing and make theories. Granted, if it was me, it might have been a better idea to maybe include a "debut of a new character"- (this this case) or "Have a look at one of your favourite characters getting a debut makeover". I don't blame people for hoping it was Sally, they do have a right to express their disappointment, but not make accusation because your theory was wrong- regardless of whether it looked it Sally or not.
This may be a harsh question, but would people have been in up and arms and upset about him being blocked if it was not Ian Flynn, because it seems that they paid attention to that because it looked bad on Flynn or attempting to find any dirt on Ian Flynn.
I will say this, whether or not he lied, that is still not an excuse harass ANYONE and I know this is hanging on a limb here, but i sorta doubted that he would have been interested.
After all, i am leniant when ken Penders says coming soon in 2012 and saying that it will be coming out soon, and then saying otherwise, nobody's perfect, its just leniancy depending on who the person is...
Placeholder
To be continued...
Freedom Fighters
Now this is what mostly everybody is looking forward to talk about, you know who I am talking about: Sally Acorn, Antoine D'Coleete, Rotor and Bunnie Rabbot. I am only going to talk about.
Look, i understand both sides of the argument of including and not including: Like for the inclusion, the characters have gained a loyal following (From my childhood, i can only remember some of the episodes of the Adventures of Sonic the Hedgehog and a little bit less of Sonic Underground) - i was only aware of them after reading the novel Friend or Foe, and i liked them there as well as in the Archie Sonic comics of course. I respect that. In addition, some of them did have a cameo in Sonic spinball- In the trapped alive game level. The other side is that they are from an old cartoon and some people may view it as being an overused mold. Although they did have not so prominent cameos in Sonic the comic, the prominent characters were replaced by different ones- Tekno the Canary, Porker Lewis. And maybe the people at Sega wanted to bring in more focus to the game universe and expand on them.
Personally, i don't see how they can't be able to appear- they did appear in the Sonic Forces tie-in and they were not affected by the lawsuit.
Note: I do admit that it would have been better to have answered whether the freedom fighters would have been able to appear, If i was them i would have said that they won't appear at right now and they MIGHT be considering that. It would have been better if it was said at the start.
One thing i want to say as well, i know it is up in the air, but if they make their appearance in the comic, please don't complain about whether they should be in their reboot appearance or not- be grateful that they exist at all. And even Sally, who people want to be the one who appears out of all of them, if she was the only one that appears then i don't think you should complain as much.
And also at least person accusing of Ian Flynn closing his forums, like i beleive that ken did closed his forums because the forums themselves were no reliable, why can't that be the same for Ian.
To be continued...
The interview
To be continued...